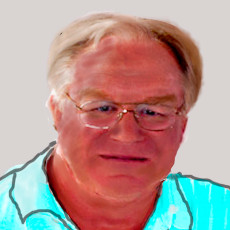 Congratulations to Peter Smolens, co-winner of the January 2021 Barefoot Writing Challenge! (Your $100 prize is on its way!)
The challenge was to write an essay that answered this prompt:
Instead of a New Year's resolution, what single word do you choose to guide your actions, goals, and behavior for 2021?
Peter shared an honest account of what it takes for him to get his writing done, even when the words don't come easily. Enjoy his winning submission:
---
Persistence — The Cornerstone of Writing
I'm a perfect example that anyone can write articles. I don't have the natural talent for writing, but I have one of the cornerstones of writing — persistence. That is what guides my actions, goals, and behavior.
If you want to be a writer, you have to have persistence and do as the late Tom Clancy said about writing a novel: "You must write the book, else there is no book. It will not finish itself."
Clancy's words rang true with me. Persistence is what keeps me going. It's what makes me put my backside in the chair every day and write. I write when I'm feeling sick. When I get form rejection emails from editors, do these setbacks discourage me from writing? Never! Persistence is what keeps me going.
Persistence is what makes me want to improve my writing skills. Some days the writing gods are kind. The research notes fall into place, and the words flow. But those sessions are rare. Most of the time, I bleed words onto the page.
I try to write something every day. Heck, I'm writing these words while my wife sleeps. Stephen King's goal is 10 pages a day. I would be happy with 200 words. Most days, I have a hard time just coming up with any 200 words on my subject.
In his book How to Write Articles that Sell, author L. Perry Wilbur describes one way to achieve writing success. He breaks down article writing into manageable segments. By writing 200 words a day, you can complete an 800-word piece in four days — the standard length for most newspapers' columns.
When I finish my writing session and get my 200 (or more) words written, I feel great! It's like I've accomplished something. It might be writing an email to an editor or moving an article forward to completion. When I send off a completed manuscript or query, it's my persistence that has made this happen. One of the nicest compliments I have ever received about my writing came from John Smolens, my brother. He's a novelist and the former director of creative writing at Northern Michigan University. According to one of his former students, John used me and my writing as an example of persistence.
That persistence in writing paid off with a 20-year career as a technical writer for the US government and a freelance feature writer with more than 100 articles published in newspapers, magazines, and online publications. Not bad for a kid who barely passed high school English. (I had dyslexia — couldn't spell — thank you, spell-check and Grammarly.)