Learn How to Make Money Freelance Writing — Complete with Enthusiastic Support from Your Very Own C
ommunity of Like-Minded Writers
When you become part of the Barefoot Writer Club, you'll step inside a secret world where writers just like you make great money freelance writing.
You won't find any "starving" freelance writers only earning pennies for their hard work here…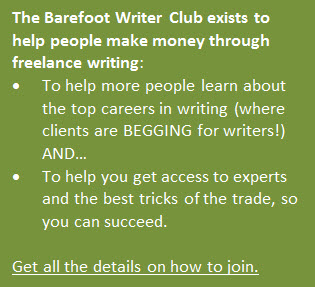 The Barefoot Writer Club is a unique community where people are THRIVING as independent writers who successfully do freelance work from home.
Writers who earn $5,000 to write a sales letter — $500 to write a single web page — or $250 to write an email or Facebook post…
Writers who have left the 9-to-5 grind to spend their time as they choose… working when they want, from anywhere in the world they choose to live…
And writers who enjoy their life and value the freedom their lifestyle affords them
That's what the Barefoot Writer Club is all about…
Showing you how to become a freelance writer and earn a very good living… from the hugely in-demand world of copywriting, to the dozens of other well-paying writing opportunities like resume writing, grant writing, case studies, white papers, video scripts, travel writing, and more.
The Barefoot Writer Club's mission is simple … 
To help aspiring writers understand where the REAL opportunities are… teach them how to effectively land them… and give them the tricks of the trade, so they can succeed with every assignment they take on.
As a member of the Barefoot Writer Club, you will…
Get private access to the members-only portion of our site. You'll immediately be given the key that unlocks advice, tips, and techniques from professional working writers on how to navigate the world of well-paid writing, and — most importantly — how to succeed!
Be invited to join our Members-Only Facebook page, so you can mingle with our experts and your fellow members, get specific advice when you need it, and connect with an incredible community of like-minded writers who will support, inspire, and encourage you while showing you the ropes.
Receive our monthly magazine, Barefoot Writer. Each month we'll deliver fresh stories about successful writers (many who started out new to the well-paid side of writing, just like you!), as well as practical guidance and lessons from the best-paid writers in the industry. We even feature helpful pointers for your success, such as tips on finding clients.
And that's not all…
When you join the Barefoot Writer Club, you'll even get five FREE exclusive "Writing Opportunity" reports (a $200 value), with exclusive insights into the best careers in writing. 
Click here to get all the details on joining the Barefoot Writer Club.
Save