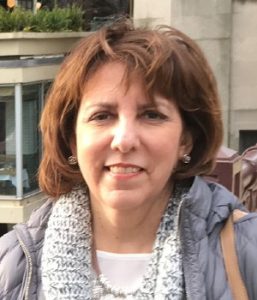 Congratulations to Diane Garthwaite for Winning the March 2021 Barefoot Writing Challenge! (Your $100 prize is on its way!)
The challenge was to write an essay that answered this prompt:
Tell us about a time you said no to something or someone and are glad you did.
Diane told a relatable story about trying to avoid catastrophe. Enjoy her winning submission:
---
"No… No way I'm doing it."
"Come on, Mom, it'll be fun! We're on our family vacation! You gotta do it!"
The pleading continued that morning, but I stood my ground. You see, I liked the ground. Unfortunate calamities didn't happen to me on the ground. So firmly I stood, my feet on the ground, and said, "No — final answer."
Some of our fondest family memories are of vacations my husband painstakingly planned for us and our two children when they were young. Whether the destination was a beach in North Carolina, the mountains of Tennessee, or the bustling streets of New York City, he filled our trips with elements of fun, adventure, and education. The fun and educational aspects I could handle. It was the adventures that led me into trouble. And while my mishaps morphed into some of those fondest vacation memories, never, it seemed, in any were my feet on the ground.
One memory is of horseback riding in the Blue Ridge Mountains in North Carolina. My horse was naturally the largest, with a reputation for being uncooperative. We rode single file along a ridge that, to me, seemed only a tad wider than that uncooperative horse. The scenery, however, was breathtaking. We were so high, it felt like you could touch the clouds. But with my feet off the ground, my hands were glued to the reins. I dared not risk both sets of extremities being airborne together.
Soon, however, not only were my hands and feet airborne, but my entire body was as well. As I looked out over the beautiful mountain scenery, a huge limb had the nerve to reach out in front of me, and down I went. I'm sure the fall was as graceful as the scream was subtle. Amazingly, I was fine, and we couldn't stop laughing the entire ride.
And then there's the memory of kayaking in Tennessee. Again, my feet were off the ground, this time buried in the deck of the kayak. I attempted to paddle in a straight line alongside my family but kept going in circles and drifting into a mud bank. We were drowning in laughter as I repeatedly tried shoving off the bank. And then it happened. Suddenly my oar hurled what seemed the equivalent of a wheelbarrow full of sludge into the air, and it landed squarely on my head and torso. My feet weren't on the ground, but they were the only part of my body that wasn't caked in mud.
So that morning I gladly (and wisely!) said no to white water rafting on the Class 3–5 rapids of the Nolichucky River in North Carolina. I knew that with my track record, I would end up in the water with the water snakes (which my family later confirmed there were many of!). Instead, I happily enjoyed a good book on the balcony, enjoying the beauty of the mountains. And even though my feet were technically off the ground, they were happy as could be relaxing on that chaise longue!