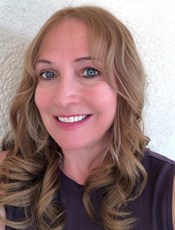 Congratulations to Catherine Catozzi for Winning the July 2018 Barefoot Writing Challenge! (Your $100 prize is on its way!)
The challenge was to write an essay in response to this prompt:
Everyone has a reason for pursuing the paid writer's life. When you understand your own motivations for achieving this goal and your "why" is strong, it keeps you focused and moving forward. With that in mind, describe in detail your "Big Why" for becoming a Barefoot Writer.
Catherine offered honest insight into the vulnerabilities of corporate life and how writing gave her the chance to break free. Enjoy her winning submission:
---
The Big Why
I have a secret. I am not the poised, confident career woman people think I am… which is the image I've portrayed and the part I've played for the last 14 years. When I stand in front of the sales team presenting the latest product line, I look good and I sound good. But inside, I'm a quivering, terrified mess.
You know what I love to do? Create the presentation. Not give it. That's the part of my job I've always loved, the part that has kept me going for years in my marketing roles: the fact that I get to write the words that surprise and delight our customers.
However, creating content has been only part of my role. As head of marketing for a well-known crystal company, earning a six-figure salary, I did it all, from strategy to execution. And I did it well. So, when my husband was offered a job opportunity to move to Florida from the Northeast this year, I shocked everyone at work when I announced that I was moving with him.
"Will you let me work remotely?" I asked.
"No," they said regretfully. "Our policy is that the marketing team must be located in-house."
I clearly remember the moment, before I asked if I could work remotely, when I said to my family, "I don't care if they say no. I'll find another job." Brave words… The company did say they would keep me on through May, but after that, I would be jobless.
But I made up my mind. I was leaving the corporate life!
As we settled into our new home this spring, I had time to review my career path — what I loved to do and what I didn't much like to do. It became clear that through the years, I had left my mark by creating content — by copywriting — at each company I worked for.
I really don't remember how I stumbled upon AWAI. But their emails were engaging and left me with the realization… I can do this! After all, I earned a six-figure salary for basically doing the same work in the corporate world, writing press releases, product descriptions, catalog copy, social media posts, website content… I wrote almost every word those companies used to tell their story, educate and delight their customers, and ultimately lead those customers down the path to purchase products.
My Big Why is similar to many of the stories you'll hear from other AWAI members. It's all about freedom. Financial freedom, and freedom of choice.
I've traded in my business suit for flip-flops and shorts, and my business trips for holiday trips around the globe. And, best of all, if I ever stand in front of any audience again, shaking in my shoes, it will be because I want to, not because I have to.
P.S. My former employer just reached out to me this week with a contract for — you guessed it — copywriting! You can have the best of both worlds. Thank you, AWAI.