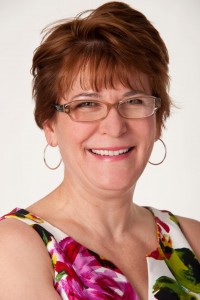 Anybody who spends an hour talking with Dianna Huff will walk away thinking, "Dang, she is just cool!"
At least, that was my assessment after my interview with her. She's spunky and fun, which must be part of the reason she's sailed to the top of the field in B2B marketing.
Dianna keeps a fast pace, but takes the time to show genuine interest in the details of life. Her background is as impressive as it is colorful. She loved reading so much she went to college to study 18th- and 19th-century women writers. Yet she's gone on to write about topics as diverse as industrial ceiling fans and how the surface of carbon is modified.
She's been awarded multiple honors, including being a two-time Platinum MarCom Creative Award winner in the category of B2B Website copywriting and e-books, a five-time Gold Marcom Creative Awards winner, and a three-time IABC Silver Quill award winner in the categories of E-newsletters, Marketing Writing, and Marketing Communications.
 
Dianna is also a self-proclaimed Do-It-Yourselfer who once "dropped" the engine and replaced all the heads on her own 1949 VW Beetle. She still remembers the thrill of bolting the engine back in, turning the ignition, and hearing her car restored to life. (Talk about proof she was meant to forge her own path!)
But she's also quick to thank those who taught her much and is proof that referrals can get you places. And along with being quite approachable — or perhaps because of it — she's cultivated a career that sustains impressive forward momentum.
In her interview, she shares a notably satisfying approach to measuring success and offers in-the-trenches advice into the three things that made the biggest difference in her climb to life as a top B2B marketer. You'll also learn how being an entrepreneur influenced Dianna's parenting style, what prompted her to ultimately "work outside the home," and why she's been "promoted" twice within her own company.
Best of all, find out what large-scale project gave her a completely new perspective on writing and empowered her to move forward with writing a book (something many Barefoot Writers certainly aspire to).
I had the pleasure of chatting with Dianna on a Friday afternoon from her office in New Hampshire. Enjoy her story.
You've mentioned you're not a typical freelance writer. Could you tell us how you first got into writing and where it's taken you?
I had just finished my master's degree in English. I was about 30 years old. And I had no clue what I wanted to do. I was working at a small manufacturing company and I was the office administrator — I did everything from payroll to shipping and receiving to even sewing when I had to. I had gone to career counseling as I was finishing up my master's. I'll never forget the day the career counselor — after doing all that personality analysis stuff — said, "There's a name for people like you. It's called marketing communications." And she handed me a job description and I swear it was like the sun came out. I said, "That's who I am!" Because before that, in every job I had, I was always asking, "Can I write the newsletter? Can I write this? Can I write that? Can I help out with marketing?" But I never really knew what I was doing. So I put together a very rough portfolio and started interviewing and I got this job at Varian Associates as a MarCom Specialist.
I thank my stars to this day, because the "big boss" at Varian was a stickler for good writing. I already knew how to write well because of my English degree, but I knew nothing about marketing writing. I learned from her how to write press releases, how to write data sheets, how to write brochures, and so forth. She was not afraid to take her red pen and scratch up everything. In fact, I remember her marching over to my cube and throwing stuff at me saying, "This has no meat! Rewrite it!"
Then my son was born, and I was still in corporate. The first year was hard because I was traveling to trade shows and everything. Then his father got a job on the East Coast, so I relocated and said, "Well, since I have to quit my job anyway, I'm going to go out on my own." And that's how I got started.
Define as you go — I think a lot of us can relate to that! Since then, you've definitely made a name for yourself in the industry as a top B2B Marketer. What three things helped most in your climb to success?
The Internet, definitely. I went into business in 1998 and put up my first website in 1999. I'll never forget the day Gateway Computers called me — they were actually looking for an agency — but I asked them, "How did you find me?" And they said, "We found your website on the Internet." I had been really careful with that website because I had done research and looked at what was out there, and the other few writers who were out there were showing stuff like their poetry and their short stories and then also said, "But we can write for corporations." And I remember thinking, "I'm not going to do that. I'm going to look like the person my customers are. I'm going to specialize in writing for marketing and communication departments." There was nothing personal on my business website. So the Internet made a big difference for me.
I think my next really big break was when Anne Holland from MarketingSherpa called me after being referred by a friend. I freelanced for Anne for two years, and that really got me going because I learned so much from her. She would say something like, "I want a report on B2B manufacturing." And then I would go out and do all this research about people in the industry, and that's how I learned everything. It was the best education I ever got.
Very in the trenches.
Yes, very in the trenches. And then the third thing I would say was … Well, Bob Bly asked me to be a guest on one of his teleseminars, and the other guest was Peter Bowerman. So we were talking about copywriting, and I remember Peter saying he did B2B and B2C, and for some reason, I remember thinking, "I need to niche myself." At the time, I was sort of getting into B2C and I decided I'd just stick with B2B because so few people were doing it.
Good point. I think the value of early specialization is an excellent lesson for many of our Barefoot Writers. Tell me, how do you measure your own success?
I look at whether I'm being profitable. But I also look at whether I'm getting bigger and better projects. Am I growing? Am I changing? Am I taking on new skills? Like right now, I'm very interested in mobile marketing, so I want to learn more about that. And I want to learn how to make Facebook work for B2B, so I've really been working on my own Facebook page to see what works and what doesn't. I don't like buying into what other people say. I have to figure it out for myself.
Sounds like you keep things dynamic and interesting as you go.
Exactly. You know, I used to work with a woman who is a wonderful coach and she called it, "giving yourself a promotion." So when I worked with her a few years ago, I promoted myself from Staff Copywriter to Marketing Director and now I finally feel like I'm CEO of my company, DH Communications.
If you were working in a corporation, they would send you out to all these conferences and things so you would pick up all these new skills. Then, once you got the new skills, you would be given better projects. When you did the better projects, you'd get promoted to a different job title. So I really think you need to do that in your own business.
That's especially a great way for newer writers to put their progress in perspective. Dianna, I've noticed that you've done quite a bit of ghostwriting for CEOs. Can you share some things you've learned from that experience?
Ghostwriting is something that literally fell in my lap; it wasn't anything I was seeking. I edited the book Inbound Marketing: Get Found Using Google, Social Media, and Blogs (Wiley, 2009), by the HubSpot founders Brian Halligan and Dharmesh Shah. They recommended me to two other CEOs and I ended up ghostwriting two books. I'm not allowed to say what they are, but I ghostwrote them. It's very exciting. I never knew I had it in me to write a book. What I learned from that whole process is that the writing stretches out. Even though you're on a deadline, you have this ability to think through things much more clearly. I was able to step back and see things from a bigger perspective. And because I was working with the CEOs one-on-one, it was like sitting in on conversations with them. It was almost like seeing the marketing world from the mountaintop! It just gave me a totally different perspective, as well as a new perspective of my own skill level.
Talk about expanding your horizons! A useful perspective as well because a lot of our readers have a goal to write a book.
You know, before, everybody told me I needed to write a book and I was always afraid. I always thought, "Well, I'm not really a writer … Me, write a whole book?" It's just something I no longer fear now. So now I'm thinking it's time for me to write a printed book of my own.
Terrific! I look forward to reading it. Now here's a new question: There aren't a lot of leading women in the B2B marketing and writing world. Do you have any advice for other women hoping to follow your footsteps?
You know, when I first interviewed for the job at Varian, I had to interview with the MarCom Director first, and then I had to interview with a number of the business unit managers. One of them was a woman, and she said to me, "There are going to be a lot of men here who are going to be very rude to you because they're very, very smart and they have PhDs in chemistry. You have to have a tough skin." I took that advice to heart and never took anything personally and learned to always back up my recommendations with data. So, for example, when a product manager would come back to me, who happened to have a PhD in chemistry (which didn't mean he knew anything about marketing or writing) and he would say, "This sucks. I wanted more jargon." Then I would come back with something like, "It's been proven that 36% of consumers want it stated this way." So then he would back off. I never said anything like, "Well, I really think we should do it this way because it sounds better." I just pushed back.
I love the way you touched on — and this is actually true for any good writer — that you should never use your feelings to convince your client about a writing decision. Facts and questions are key! Now, your website includes a long list of accolades and mentions on many well-known blogs and websites. What's your secret to getting noticed above all the other bloggers and marketers out there?
I think it's just consistency. I've been writing ever since I got into business. I've always done an e-newsletter. I do my blog posts, I'm active on Twitter, I'm active on Facebook. I get out and meet people. I network. Now, I don't do as much as I used to because my son is older so a lot of my free time is spent driving him all over the place. But I think most of it is just getting out there and taking a genuine interest in people and talking to others and promoting the stuff they're doing. And as Bob Bly says, "just being a nice person."
That's excellent advice for any career. Speaking of your son, has being a self-employed entrepreneur had any effect on the way you parent? Do you have advice for other entrepreneurial parents?
My son is very clued into where money comes from. So I've never, ever said, "Money doesn't grow on trees." Because he knows that mom goes out and works. And I think one of the best things I ever did when he was younger and I was under deadline, is that I went out and bought him paint and Play-doh® and said, "You need to keep yourself occupied because I have to get this done." It was a very tight deadline and I got it done. A couple of weeks later, I got a check in the mail and I remember saying to him, "See this check? Remember when I had to work all those hours and I bought you all that stuff?" And he said, "Yeah." And I said, "Well, this is the check for it." And I drove him to the bank with me and  put it in the bank and showed him my checkbook and said, "See, now I'm going to write all these checks and pay all these bills and that's what I do." And to this day, I'm very open with him about where money goes.
I love it. That's great advice for teaching your kids responsible decisions and about life as a freelancer. Changing tactics just a little bit, what tools or habits do you use to keep organized?
Well, the best thing I ever did was buy a MacBook Pro. Before that, I had a desktop computer and a laptop and I was constantly losing things between the two — you know, trying to do things on thumb drives and everything. And then I got invaded by malware, and it took over my entire desktop … and the computer never worked right again. So I said, "Forget it." And I bought myself a MacBook. It's a 13-inch so I carry it everywhere and can work from anywhere.
The most important programs I use are the Internet and Microsoft Word, Excel, and PowerPoint. I don't need much more than that. I have a schedule that I use to help keep me organized. I also use Basecamp because I have a copywriting assistant, so we use Basecamp together.
And then my habits are very structured. I do my meditation, have my breakfast, and then I come to work. I'm here at work all day and then I do whatever with my son in the afternoon. Sometimes, usually a few nights a week, I'll do an hour or so after dinner, but I'm very structured. I think that's how I get so much done.
I think when writers finally follow a structured plan is when they start to move forward. Speaking of structure, I heard you now rent office space instead of working from home — why the change?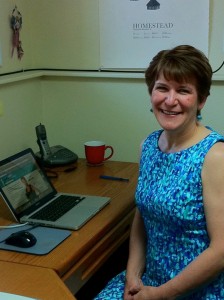 Well, we live in a small house. I used one of the bigger bedrooms for my office and my son was in the very small bedroom. He started growing and he kept looking at my office, saying, "You know, mom, I really think I need that room." I also have two sheltie dogs. I worked at home with them for 10 years, and they drove me absolutely crazy. They bark and bark and bark. They bark on conference calls, and I was always trying to mute myself. So I saw this funky building by where I live that had this "For Rent" sign. The first week I was in here I thought, "Wow, I'm getting a lot done!" I realized it was because I wasn't trying to shut the dogs out.
What's the best thing about living in New Hampshire?
You'll laugh — but I'm going to say the weather. It's not because I like winter or snow or anything, but I really love the other three seasons. I love how things change. And it's semi-rural where I live, so I'm right on the border of Massachusetts. Just down the street from me, there's a dairy farm and I can hear the cows mooing in the morning. I love the fact that I'm only an hour away from Boston but I'm still in a place where there are trees and farm animals. I have a half-acre lot, too. I feel like I have space, and it's quiet.
And I've heard you like to go sailing?
I used to do sailing. One of the reasons I have manufacturing experience is because I put myself through school making sails for sailboats in California. I worked on a production line making sails. I used to sail as a crew member on all of these race boats because I worked at places like North Sails that made these huge Americas Cup boats. I would do a lot of racing at these big regattas on San Francisco Bay as a crew member, which meant I knew how to sail but didn't know how to drive the boat. So last summer, I started taking sailing lessons down on the Charles. Now I can steer a little boat out there by myself. It's a lot of fun, so I do that when I have time.
Thanks so much for sharing this insight into your life, Dianna.