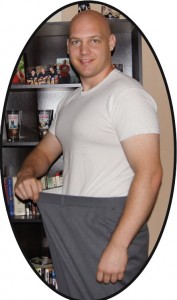 Freelance copywriter Henry Bingaman didn't realize how much weight he'd gained until his pants stopped fitting.
"I bought a scale, I think at Target," recalls Henry. "I took it home and tried it. It showed 270 pounds – I'm happy around 220. My first thought was 'it's broken.' I even called my parents and said, 'I think I got a broken scale. Can I check on yours?'"
But the second weigh-in at his parents' house confirmed it.
Whether it was fate or luck, the next project in his schedule was for a weight loss plan. It was based on the glycemic diet. He'd written health promos – that's his specialization – before and always believed in the products.
"But this time, I was really motivated to try it," says Henry, laughing.
As he wrote the copy, he started shedding pounds. Within three months, he had lost 30 pounds. All told, in eight months, he lost 57 pounds. Plus, his promotion mailed – and was a hit. It's still the control to this day.
And if you're wondering …
Yes, Henry added himself as a testimonial in the sales letter.
"That's what I call Glicken. Not just writing a control (with royalties still coming in) … but losing almost 60 pounds in the bargain," says Henry.