Write or Die, a popular web application for writers, claims to put the "prod" in productivity.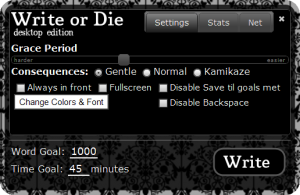 The concept for the app, which you can get on your desktop or iPad, is to make writing goals tangible. It was created by "Dr. Wicked," who says writers need rewards when they succeed and penalties when they don't.
The online writing lab lets you set your own options, including a word count goal and a time limit. You can also disable both the backspace and the save command until you reach your word count goal.
Plus, you set your own consequence level. If you take too much time between words, the "Gentle" consequence is a pop-up box. The "Normal" setting plays a blaring sound until you start writing again. And Kamikaze mode starts un-writing your work if you stop for too long.
Our thoughts? It's a useful tool for putting words on a page, especially if you want to increase your writing speed. But being a Barefoot Writer is about writing for satisfaction, not punishment. Keep this in mind if you use the app to challenge yourself or to time your daily writing.