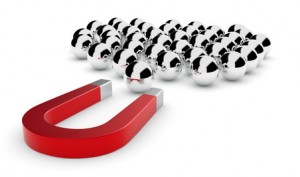 Here's a secret that can help you grow a stable full of clients who are loyal and eager…
Clients who will want to work with you again and again because you'll be the person who brings them new potential buyers time and time again. In other words, you'll be their "rainmaker."
As a rainmaker, you'll use your writing to attract people who are genuinely interested in buying what your clients are selling. In other words, you'll attract their "ideal prospects."
In marketing, we call them leads. And as a Barefoot Writer, if you can bring your clients leads, you will be rewarded handsomely with high fees and ongoing work.
The 411 on Lead Generation… and Why Every Client Wants It
Lead generation – also known as lead-gen – is simply the act of helping your clients get new leads, or potential customers.
And someone who specializes in lead generation is called a lead generation specialist.
You see, every business needs to have new customers coming in the door if it wants to survive for the long haul. Yet, finding new leads is the number one challenge for any business.
If you're the one that can solve that problem and bring new, qualified leads into a company, you'll command top dollar as a writer.
A qualified lead is a potential customer who fits the prospect profile for your client.
Here's an example: Say you're standing on a corner in a busy shopping center with a sign that advertises the arts and crafts store behind you.
The sign you're holding says, "Free Cookies! Just go inside!" All kinds of people will head inside, grab a cookie, and leave. Technically, they're all leads, or potential customers. You got them to go inside, and they might find and buy something they like while they're in there. But they're not pre-qualified to buy.
Instead, let's say your sign reads, "Free Fabric Pinking Shears! Just go inside!" This sign will catch the attention of people who enjoy arts and crafts projects and value pinking shears, and who will be much more likely to browse and possibly buy something once you get them inside the store. These customers are considered qualified leads.
Understanding how lead generation works is also an excellent way to keep clients coming back to you for repeat business. Because once you've proven you know how to bring about qualified leads, you become a revenue machine for your clients. In other words, you'll consistently help them land new business.
Lead-gen is a simple skill that's valued by marketing managers everywhere. Yet, amazingly, most writers don't focus on it and instead stick with writing straight content.
As a lead generation specialist, you're not just another freelancer. In most cases, you become a valued member of your client's marketing team. Often times, you're viewed more as a consultant, and your fees will reflect that. 
Now, don't get me wrong, you can still make a great living without being a lead generation specialist. Writers who focus on sales or content can do quite well. 
But if you want to be at the top of the chain, lead generation is the way to go.
So What Exactly Does a Lead Generation Specialist Do, Anyway?
In a nutshell, lead generation specialists write copy that persuades prospects to raise their hand for more information. They combine strong sales writing skills with informational, fact-filled content. The copy style is low- or no-hype, but speaks directly to a company's ideal customer, and gets him to take an action that says, "yes, I want to learn more."
With lead-gen copy, success is measured by the number of leads generated, not the number of sales. So as long as your copy is bringing leads in the door, you'll do well.
Typical lead-gen pieces are things you may already know how to write – many of them are writing opportunities we've covered here in Barefoot Writer. Some examples of these projects include emails (both single and sequences), landing pages, sales pages and letters, video scripts, online brochures, and ads of all types.
When writing a lead-gen piece, you'll want to:
Start with the problem your client's product or service solves
Use language that puts the prospect's problem front-and-center – so they want to address it, ASAP
Let the prospect know that your offer will solve their problem
There are other elements to the strategy, but that gives you a good idea of what your copy is supposed to accomplish.
Like copywriters, lead generation specialists know how to tap the pain-points of their audience so they can write copy that resonates with that prospect. They know how to dig deep into what motivates the prospect.
But they also know how to pinpoint the unique selling point of the product or service they're promoting, which strengthens the copy tenfold.
Lead Generation Works for Every Business
Though lead-gen is often associated with B2B (Business-to-Business) copy, in reality every business can benefit from it.
Think about it. The number one issue for any business is getting new customers. Every business needs customers coming in if it wants to stay profitable or – better yet – expand.
So no matter whom you write for, lead-gen can increase your client's bottom line.
Going Rates for Typical Lead-Gen Projects
In most cases, lead generation specialists can expect to earn more than their counterparts who just write content. That's because their special skill helps their clients make money, which makes them a valuable part of the marketing team. Many lead generation specialists earn up to twice as much per project as other writers.
Here are some example fees lead generation specialists can expect to earn per project.
Print ad – full page: $1,000-$2,000
Promotional email: $750-$1,500
Sign-up copy for an e-newsletter: $500-$1,000
4 emails in a follow-up series: $1,500-$2,500
Long sales page: $2,000-$3,500
Additional Benefits of Lead-Gen Expertise
A bonus of being in demand as a lead-gen writer is that your clients will pay more for your writing. Once that happens, you can pick and choose your projects. You can pursue a higher income, or you can work less and still make full-time money.
Another benefit is you won't have to worry about getting new business, because your clients will remain loyal to you. After all, you're bringing business to them. They'll come to you first for any writing project they need.
And, you'll also have opportunities to upsell clients on additional services. For example, if you're hired to write a web page for a client, you can suggest an email series to drive prospects to the web page. Or if you're asked to write the email that attracts prospects, you can offer to write the case studies, white papers, or content the company plans to send them once they become a "lead."
How to Get Started
Getting started as a lead generation specialist is easy. Here's what you need to begin:
1. Learn the secrets of lead-gen copy.
Fortunately, you won't have to study for months to learn the basics of lead generation. As a Barefoot Writer, you likely already know how to write several types of copy. All you have to do now is learn the formula to effective lead generation, which you can do in just a few hours. In addition, you want to know how to understand your prospect, get inside their head, hook them on instant benefits, and write arresting offers. 
2. Know the key parts of the lead-generation process and language.
Understanding the jargon and knowing the lead-gen cycle will give you confidence in your abilities, and show clients you're a specialist. When your clients see you understand what's going on and that you can manage the project like a pro, they'll have no problem paying you top dollar.  
3. Have samples you can share with potential clients.
Your samples show your expertise and help you land the job. These can be actual client work, or a sample you create just for your portfolio.  
Summary
Now you see why lead-gen is an ideal Barefoot Writing opportunity. It's as easy as picking up some simple skills to complement what you already know, and can actually create additional writing opportunities. In a short amount of time, you can literally be one of the top writers in your field, earning high fees, and be booked for months in advance.
Whether you want a six-figure income or part-time work that pays well, understanding how to generate leads will bring you enormous opportunity.
Editor's Note: If you'd like to become an indispensable part of your client's marketing team and earn top fees, check out AWAI's Become a Lead-Gen Specialist. It contains everything you need to know to become an expert in lead generation, including a step-by-step guide to starting your business, templates, tip sheets, examples, and what to charge.