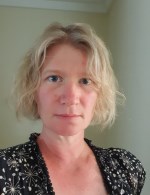 Congratulations to Rananda Rich for Winning the April 2020 Barefoot Writing Challenge! (Your $100 prize is on its way!)
The challenge was to write an essay that responded to this prompt:
With so much of our world shut down because of COVID19, many people have new appreciation for things they took for granted. What insights have you had?
Rananda wrote with refreshing honesty about being nimble in the face of change. Enjoy her winning submission:
---
I remember the day my KeepCup was refused at my local coffee shop and real money was rejected for more hygienic, touchless, payWave transactions.
In truth, I was happy about not shaking hands anymore, and thank goodness for no more awkward social cheek kissing. The idea of lockdown appealed to every part of my introverted, quiet, self-contained self.
I imagined uninterrupted peace, a quieter world.
I pictured hunkering down to sit this out, nestling into a sun-trap to read long-neglected books, fun home-cooking experiments, and making arty creations from outgrown clothes, old birthday cards, and balls of tangled wool.
I hoped I could finally tend, weed, plant, and prune my garden. I envisaged living off homegrown salad and quiet, overnight grocery deliveries.
I thought of combing through cupboards, decluttering and reorganizing. I even visualized that second side hustle: an online shop selling our unwanted items to become someone else's treasures.
Most of all, I would write. Prolifically, freely, imaginatively, joyfully. Even profitably.
Lockdown began in earnest, and I waited for peace to come.
Instead, my phone pinged relentlessly: live broadcast notifications, infection rate updates, actions to take, warnings to heed, toilet paper, grief, horror. It became a portal for new message groups, Zooming, and connections requiring attention.
Planned work was disrupted by children's requests every five minutes. How to connect, how to log on, how to access, how to hear, how to calculate, how to show, how to spell, how to save, how to log off, though not how to be quieter…
We found a soft-toy-making kit for 8-year-olds in the back of a cupboard. I gave it to my daughter, 9, who gave it back after 15 difficult stitches. It took middle-aged me three frustrating days to sew it into a poor imitation of a stuffed lion. My 4-year old adopted it out of pity.
We gorged on banana muffins, then run out of bananas. It rained for days, and the garden became swampy, with little seedlings battered flat or choked by rampant weeds. Parcel deliveries were delayed, so we eyed up newspapers as potential toilet paper. Or boxes arrived with eggs missing, which meant half our baking activities were on hold, though we made pizza, lots of pizza.
Our online shop hustle never launched, amid concerns about coronavirus carriage, but more than that, little hands discovered old belongings and wanted to make up games and re-favorite items otherwise untouched for years, nay decades…
I was forced away from writing, editing, marketing, and a website redesign to crawl on the floor picking up tiny beads spilt while making a kitty-cat mask, or to play with plastic dogs who attend a makeshift school made out of a shoebox.
The demands, the cacophony in the house, frayed my mind. In loosening its rigid threads, I relaxed.
Maybe I will find the peace I thought I never had later on, when the world starts up again, renewed.
Until then, I appreciate unusual moments of joy, long solo walks with the dog, and deep gratitude for our well-being.