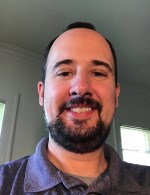 Congratulations to Mike Krizman for Winning the April 2020 Barefoot Writing Challenge! (Your $100 prize is on its way!)
The challenge was to write an essay in response to this prompt:
With so much of our world shut down because of COVID19, many people have new appreciation for things they took for granted. What insights have you had?
Mike described some moving moments he's had lately while staying home. Enjoy his winning submission:
---
Around the time Trace Adkins came out with his hit song "You're Gonna Miss This," I was in my mid-20s, newly married and still about nine years away from being a father.
One day, during a family get-together, my brother and I decided to just sing the song out of the blue. (Because we come from a musically inclined family, this tends to happen quite often.)
"You're gonna miss this. You're gonna want this back. You're gonna wish these days hadn't gone by so fast…"
As we were singing, my dad interrupted us and said something that didn't really resonate at the time, but crept back into my mind recently.
"Well, your mom and I didn't miss any of it," he said. "Every time we hit one of your milestones, we breathed a sigh of relief and said, 'Thank God that's over.'"
At the time, I couldn't blame him for feeling that way. I'm the oldest of four children, and my parents' last kid was just about to graduate high school. His parenting duties were starting to wind down.
Fast-forward nine years later, and my wife and I are adjusting to life as new parents to twin daughters Everly and Avery. For much of those early years, we were just trying to survive.
And when a parent is in survival mode, frustrations boil to the surface. I manifested many of those frustrations by voicing how much I wanted to get past those milestones.
"I want to be done with bottles," I'd say. Or, "I want to be done with diapers," or, "I can't wait until they're both out of these damn infant car seats."
My girls are 4 now, and they're done with all of those milestones. I blinked and it was over.
I think back to what my dad said, and I know he doesn't feel that way anymore. When I take my family to visit my parents, I can see the regret written all over their faces for not taking the time to enjoy those early years.
Now that we're quarantined at home, it's forced me to not only enjoy the moments, but discover new things about my kids.
I've learned that Avery is very strong with letters and numbers and likes to have conversations with her stuffed animals before going to bed. I've discovered that Everly is a natural at riding a bike.
Everly is also wise beyond her years and likes scolding her sister when she's doing something wrong. Avery's response is always to repeat the behavior to get under her sister's skin — my wife and I get a good laugh at this exchange when the kids aren't looking!
When the world returns to normal, I'll look back at this time knowing that I was able to hit the Pause button rather than wishing away the years.
Trace Adkins's words will resonate with me as my girls get older and each milestone passes, but I won't have the look of regret when I'm the grandfather.