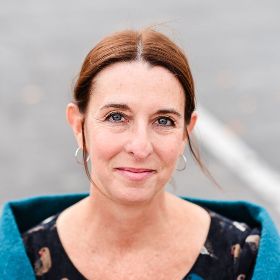 Congratulations to Inga Back for Winning the November 2020 Barefoot Writing Challenge! (Your $100 prize is on its way!)
The challenge was to write an essay that answered this prompt:
What is your favorite comfort food, and when do you tend to reach for it?
Inga told a sweet story about the night a single entrée opened the door to a new life. Enjoy her winning submission:
---
Garlic Pasta and Love at First Sight?
In 1993, I was 24 and living in a tiny, one-bedroom apartment on Prospect Avenue in Milwaukee. Flanked by higher-end neighborhoods, this part of the east side was a mix of dive bars, secondhand stores, and trendy cafes.
My building had seen better days, and the thin walls did nothing to conceal my neighbors' arguments, but the apartment had a beautiful claw-foot tub and was cheap.
What I loved about this neighborhood was being surrounded by great food. There was a bakery on the corner that made the most luscious lemon–poppy seed muffins, and a Mexican restaurant on the next street over served an undeniable grilled chicken and black bean dish.
But on this night, I was being made dinner.
I had met the "chef" two years earlier when I was interviewing for a master's program at UW Milwaukee. A longtime graduate student, he poked his head into the office to talk to my soon-to-be major adviser. I saw him again a few months later on my first day of graduate school in a large room, waiting for orientation to begin. He strode in, confident and joking.
I remember those encounters so clearly. They're wired into the neural tapestry of my brain, not unlike 9/11 and my car crash on the Lake Butte des Morts bridge, but happier.
Thinking of all the people I know, for most, I can't recall the first time I saw them, much less the second. I'm not sure I believe in love at first (or second) sight, but if it does exist, that was it.
Eventually, we started dating, and that night I sat, like a royal, awaiting my meal.
What appeared on the table in front of me was garlic pasta. Pasta with a simple sauce of butter, olive oil, minced garlic, salt, pepper, red-pepper flakes, and dried oregano.
In that moment, garlic pasta became my comfort food — it made me feel warm, safe, and loved. I ate with gratitude and satisfaction and knew my future would include this man.
These days, my husband rolls his eyes when he asks, "What's for dinner?" and I reply, "Garlic pasta"… again. Occasionally, he'll remind me that he introduced me to that dish, and I'll smile and say, "Yes, that's true, but I perfected it."
After 27 years and hundreds (thousands?) of batches, here are my special tips for the perfect garlic pasta:
Thin spaghetti is the best — it allows for the perfect coating of the butter and olive oil sauce and, of course, twirling fun.
Omit the oregano — it brings nothing to this party.
Cook the garlic until it's just barely toasted. Watch it closely — burned garlic is a crime against humanity.
After plating, sprinkle with extra salt, ground pepper, crushed red pepper, and a mountain of freshly shredded (not grated) parmesan.
Don't think about the calories. Feed your soul and enjoy!