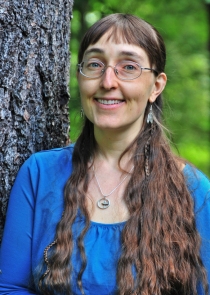 Congratulations to Erica Bartlett for Winning the May 2019 Barefoot Writing Challenge! (Your $100 prize is on its way!)
The challenge was to write an essay that answered this prompt:
What did your mother teach you?
Erica told the touching story of the unintentional life lessons she received from her mother. Enjoy her winning submission:
---
Even though I had her for only 23 years, Mom taught me many things.
Some were very practical. For example, I still hear her voice when I'm clearing snow off my car, reminding me to get the roof, too. Otherwise, the snow will slide onto my windshield and blind me at the worst moment.
I also learned how to follow a budget, mulch a garden, and can her favorite vegetable, green beans.
But she taught me so much that went deeper. Not by trying but simply by living her values.
Perseverance. Mom worked long and hard to become a classroom teacher, including changing schools when her first principal didn't believe in her. When she finally got a third-grade position, she loved it. And the kids and other teachers loved her.
I have used that example in my own life by losing more than 100 pounds, self-publishing my memoir about that experience, and now moving into copywriting.
Open-heartedness. Anyone who visited our home knew they were welcome, and some of my and my brother's friends practically lived with us for a time. When we had students visit from other countries, Mom helped give them a home away from home. Like her, I do my best to welcome anyone who comes through my door.
Sense of wonder. Mom loved the natural world. It gave her constant delight, and she wanted to share that wonder with others. She was the one who got us out camping and canoeing and watching shooting stars.
When I collected memories of her, 10 years after her death, other people mentioned this, too. One example is that Mom showed one of my cousins her first sunrise, and it made such an impression that my cousin got married at sunrise.
I don't know if I've inspired anyone in quite that way, but my poetry is often my own reflection of wonder and love of nature. I also make a point of looking for the beauty in the everyday world, including frost patterns and snowflakes on my car windows.
But the final thing I learned came with Mom's death. And that's to not put off your dreams, or assume that you have time.
Mom had many plans for retirement, especially traveling, but she never got the chance to carry them out. She died at 48.
I've done my best to take that lesson to heart. I've traveled for both of us, including to New Zealand, where she'd always wanted to go. I achieved my lifelong dream of being published, and I've done a lot of volunteer work, some of it with kids.
At the end of May, I'll be 43. To many people that still sounds young, but for me, it's only five years away from Mom's age when she died.
But instead of letting it make me sad, I choose to see it as a good way to remember everything she taught me. And it helps me keep working toward my goal of achieving my writer's life.