Congratulations to Emily Espinosa for Winning the September 2022 Barefoot Writing Challenge! (Your $100 prize is on its way!)
The challenge was to write an essay that answered this prompt:
With the advent of autumn come visuals of caramel apples and pumpkin-spiced everything. If you could introduce a fall food to the world in hopes it would become annually ubiquitous, what would it be?
Emily told a sweet story about a new take on autumn joy. Enjoy her entertaining submission:
---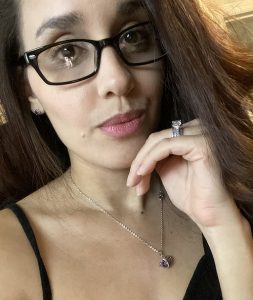 By Emily Espinosa
When I think of fall, I think of candles; warm, comforting treats; and ice cream. 
I know what you're thinking… Ice cream?! Is she crazy?! Who in their right mind wants to eat ice cream during the fall? Well, when you live in Florida, ice cream is considered a treat you can eat during any season.
During this time of year people typically think of pumpkin spice and apple cider. For me, I think of that one cozy fall night when my husband and I discovered our new favorite treat. Now remember, we live in Florida, where the cold rarely visits and the air is always warm.
So, imagine trying to enjoy the wonders of such an amazing season that has been taken over by the overwhelming heat we tend to deal with. We had no choice but to get creative, especially since my husband doesn't care too much for pumpkin-spiced anything, and apple pie is always a win in my book, but for him not so much.
We knew it was time for us to narrow down a comforting dessert we both could enjoy together. Because let's face it, as parents the only time we really get to spend time alone together is when we're hiding from the kids eating something we don't want to share with them.
Anyways, back to the dessert. It is comforting, scrumptious, and essentially a bowl full of happiness. Which is why we call it our "happy treat," because no matter what tribulations the day may bring, we can always rely on our happy treat to make it right. Now that you're dying to know what this extraordinary dessert is, let me warn you: Once you know about it, you won't be able to stop eating it. 
You have been warned this is very addicting and may cause weight gain. But trust me, it's worth it!
This simple yet delightful dessert consists of espresso coffee ice cream and cinnamon swirl crumb cake. The brand I typically use for the crumb cake is Krusteaz, which I can normally find at my neighborhood Publix. However, I'm sure any brand will do just fine. Now, you may be wondering, this is an odd mix of flavors. Trust me, I thought the same thing, but once I tried it, I immediately fell in love.
The warmth of the crumb cake with a scoop of silky, creamy ice cream just melts all your troubles away. Oh man, just writing about it is making me want to bake a crumb cake and run to the store for some espresso ice cream! Care to join me?