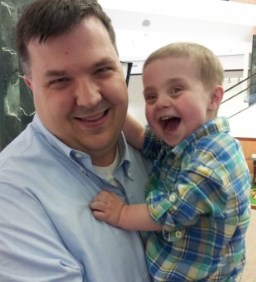 Congratulations to Charles George for Winning the February 2019 Barefoot Writing Challenge! (Your $100 prize is on its way!)
The challenge was to write an essay that answered this prompt:
Write about a time when you felt loved.
Charles shared the touching story or his young son's moving life experiences. Enjoy his winning submission:
---
The Unconditional Love Between a Father and Son
When I consider the moments in my life where I felt the most love, a few things always come to mind. I think back to my childhood, my relationship with my father, visiting my grandparents' house, or the magic of Christmas when my entire family would gather. In my adult life, I think about when our families and friends gathered to celebrate the marriage of my wife and me. Happy times!
But if I had to choose one period when I felt the most love, it would be the three years I had with my son. You see, my son was born with congenital heart disease. Congenital heart disease affects 1 out of every 100 babies born today. It is the most common birth defect, and more children die from congenital heart disease than cancer or any other cause of childhood death.
When my son, Thomas, was born, my wife and I stayed with him for more than eight months of the first year of his life, in a hospital over an hour away from our home. During this time, my son endured two open-heart surgeries and two other lifesaving operations.
Eventually, Thomas did come home, and he grew and developed into a charming little boy. He went to church every Sunday, loved going to baseball games, swam during the summer, and did lots of other fun things with both his mom and me. He enjoyed watching sports, and loved playing the piano, banging on the drums I bought him, and singing and dancing (the "Thomas Shuffle").
When my son turned 3, he faced another open-heart surgery. After this surgery, Thomas developed complications. He died three weeks to the day of his operation.
During his short time on earth, he taught me to improvise, adapt, and overcome in more profound ways than I could ever imagine.
During his eulogy, I compared Thomas to a Norman Rockwell painting.
Norman Rockwell always painted conflicting emotions in every painting. If someone was happy, then another person would be sad. Thomas spent 18 percent of his life in the hospital. He understood pain more than anyone I have known. He experienced an enormous number of needle sticks, class A drugs, and procedures. He overcame so many challenges during his short life.
But even with the pain that Thomas experienced, he loved life! When we would leave a restaurant, he would say "Hi" to every person and bring a smile to their face. He high-fived, shook hands with, and fist-bumped every person he met. His love for life was contagious!
The best three years of my life were the years I had with my son. Every moment Thomas and I were together, he knew how much I loved him. It is a love that he reciprocated back to his mom and me. Knowing and experiencing this type of unconditional love is life's greatest gift and reward!