If you ever see Heather Lloyd-Martin's name on the agenda at a writing conference, you're in for a treat. 
Not only does she instantly connect with her audience in her friendly way, she also shares volumes of quick-witted insight in a very short amount of time. 
Heather is a popular presenter and speaker, best known for being a pioneer in Search Engine Optimization (SEO) copywriting. She's been in the business for 17 years, studying SEO best practices from the time this writing strategy first emerged in the online world till now, where it's an integral part of all successful online writing. 
Heather has been quoted and cited in scores of publications, from The Huffington Post to Entrepreneur Magazine. She was voted one of 2012's Top Women in SEO and served as the immediate past-chair of the Direct Marketing Association's Search Engine Marketing Council. She also developed the only industry-endorsed training program to teach best practices in SEO Copywriting. 
But even more impressive than that is the travel-filled lifestyle she's built up thanks to her career as a freelance writer. Heather is the kind of person who knows who she is and what she wants. When I connected with her last Friday, she was good enough to divulge how she felt sure that the writer's life was the best — and only — option for her. 
But that wasn't the only jewel from our interview. She also shared her rules of the road, including how to be super-productive when traveling so you don't ever return to a mountain of stress. Plus, find out what kinds of qualities you need to thrive as a writer of SEO content and why it's a good field to work in if you like instant gratification. 
Also, learn about her "ultimate Amsterdam" experience and find out what she loves best about living in quirky Portland (where it appears you can even find chefs who relate to the writer's life!). And, you'll learn how Heather started out in the freelance world with a wish for good luck from an unlikely person as well as which social media platforms give her the biggest payoff today. 
If you're looking to make a professional go at writing for a living, especially in the world of Search Engine Optimization, you'll pick up serious wisdom from Heather's in-the-trenches lessons. 
Hi Heather, thank you so much for joining me today. Let me start right off by asking, what's the first thing you had to drink this morning? 
That would have been a latte — my one token soy latte I have every day! Geez, I really enjoy that latte when I have it. I think I've even joked that I need that in my contracts: One latte when on stage. Really gets me started out on the right foot. 
You obviously know what it takes to get into your most productive mindset. Let's talk about your writing — where is it that you do your best work?
I have a dedicated home office, so I do most of my work from home. Sometimes I will move my office to the couch, but most of the time I try to keep my work in my office so that way, at the end of the day, I can shut my door and be done. 
Did you always want to write for a living? 
Pretty much, yeah. I'd always done it and I just didn't know that you could make a real income from it. So when I first started out, I remember reading some stat that said the average writer made something like $21,000 a year. And I thought, "Uh … I think I can do a little bit better than $21,000 a year!" And I was right. Once I quit my real job and started writing full-time, I never looked back. 
Love hearing that — very inspiring! So how did you go from wanting to be a writer to becoming an SEO writer? 
A lot of it was right place, right time. I was already doing online copywriting before SEO copywriting became a thing. So when I was first going into it, this was like '95, '96, that's when Search Engine Optimization really became a sub-marketing niche. It was something that not a lot of people did — nothing like it is today. And I was part of a newsletter-discussion group and there was a woman who owned an SEO firm who was looking for a copywriter. So I was able to make that transition from just doing straight copy to realizing how keywords work and meshing them with the marketing and the call-to-action. Since I was one of the first people to start talking about it, it opened a lot of doors in terms of conference opportunities and article opportunities and all sorts of fun stuff. But it was definitely time and place that really got me started in this direction. It's been fun, and I knew I was good at copywriting but I never thought I would end up being the half-geek, half-marketing person that I am today. 
I love the way you put that. Now I wonder how much of this enthusiasm comes from being able to go in your own direction. A lot of people call you a pioneer in the SEO world. Can you tell me how that came about and how you went from a freelance writer to being on your own completely? 
It turned out really well. I looked ahead in my future and actually talked to a career coach way back in the day. She was really well-known and well-branded and on television. She spent about a half hour talking to me and said, "You know, you are just going to be the type that always needs to be self-employed. You obviously would not play well with others if you had a real job." And she was right. I like doing my own thing and I was really fortunate in that I'm very stubborn. I knew what I could do if I had a real job and I didn't want to do that. I wanted to be able to lay my own track and do my own thing. 
Absolutely, good point. Now, before you entered the freelancing world, what kinds of employment had you experienced? 
You know, I'd had real jobs before and I even wrote in-house just to see if I would like that. Because in a way, working in-house is kind of fun because you have that built-in camaraderie and everything else. But it's not so much about having a bad boss. For my personality. It kind of goes back to that stubbornness again, I don't like being told when I can take off. I don't like being told when I have to go work or when I have to leave. My boss at the time when I quit to become a writer was incredibly supportive and actually gave me a bonus when I left because he wanted me to succeed. So it was a really cool thing. 
I think that's great. Now tell me, Heather, what kinds of projects are you working on right now?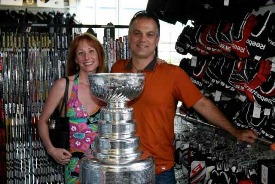 I still take on the occasional client but, for the most part what I'm doing now is in-house training for companies and training copywriters on how to make more money and how to have a better life doing what they love to do. 
I've also launched a new business product for freelancers. It's a six-week Business Boot Camp where I brought together 12 experts to talk about taxes, talk about legal stuff, talk about finding your niche. Bob Bly, Pam Foster are part of it as well. 
Sounds like a great experience for freelancers. Next question: If you were to explain SEO to a ten-year-old, what would you say? 
SEO is as simple as helping a website get found on Google through a search. So, if you are looking for rubber boots, then you want your web page for rubber boots to rank in the top results for Google and Bing. 
A lot of people think SEO doesn't have anything to do with writing because they think it's techie, or like you called it — geeky. Can SEO writing be easy for somebody who's non-technical? 
Of course, there are a lot of really good copywriters out there who are not programmers. And this is where it gets confusing for folks because there are so many different facets to Search Engine Optimization. Now, certainly there is programmer-speak and they're the ones who code (the ones who I joke about wearing the little propeller hats) and that's their world — to go into a site and build the site and program the site. 
But then there's the other creative side of it, which is where copywriting comes in. That's where you basically need to be a good writer who knows how the search engines work, and you need to know how to do key phrase research. It may sound overwhelming at first, but it's not hard to do it all. 
What kind of writer would do well in this niche? In other words, what kind of qualities does someone need to be a good SEO writer? 
It's good to be really comfortable with stuff that moves quickly. There are a lot of writers I know who love to be in an industry where there is always a lot going on. In SEO, there's always a lot to learn, either in terms of what's going on with the search-engine world or what you need to know to write well about different clients and their businesses. So, folks that are really curious do well because there's always a lot going on. 
And folks who have that sort of geeky side, they tend to do well. It might be that you never get into the consulting or programming side of it, but if you enjoy computers and how they tick or enjoy puzzles, then SEO is really fun because it's kind of like putting a puzzle together. You've got all these disparate pieces lying around and your job as a copywriter is to find the pieces and put them together and make a pretty picture so when the reader comes to the site they say, "Oh yes, I love this company and want to buy something." 
Beyond that, it's a good niche if you like instant gratification. There's nothing more fun than to try something on your site or your client's site, and then find all of a sudden that your page has been positioned in the top 10 search results. It feels like magic. 
You travel a lot, but you're incredibly productive and prolific in spite of it. So do you have any super-productivity tips for travelers that you can share? 
Wow, this one has taken me years to master because I've realized that when I'm on the road, I'm just kind of in a different mindset. So what I've learned is to have someone or a group of folks supporting me. So when I'm away, everything is handled — and I'll be doing this soon because I'm taking a month-long sabbatical in May. That means I have someone go in to check my email, even if it just means they can say, "Hey, Heather's at a conference. Can I help you with anything?" Somebody else handles the questions around certification, or questions about my schedule. I don't need to worry about any of that. 
I know a lot of writers when they first start out, they're afraid of bringing somebody else on because they think, "I don't have that kind of money." But if that's one of the things that attracts you to the writer's life — to be able to scoot out every once in a while with your laptop and do what you want to do — then it's really nice to have that backup, because you know that you can take a day off and not have to worry about 500 emails backing up while you're gone. Even a part-time virtual assistant who can help you out can make a tremendous impact on your productivity while you're gone. So when you come back, then you know that everything's been handled. 
Right, makes great sense. And what's your favorite place to travel when it's just for pleasure?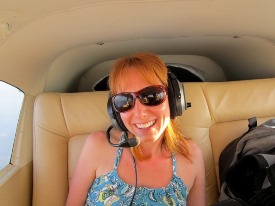 If I don't have anything coming up internationally, then a lot of times I will just go to Sedona and maybe hang there for a few days. If I have the opportunity to get a speaking gig in Europe, then I love traveling to the UK and to Holland. It's really fun, and that's one of the advantages of the writer's life that I really love because you can do that and you can check in from anywhere and clients don't necessarily have to know that you're away from your office. 
Let's talk a little bit about Portland, now. What's your favorite thing about living in the Portland area? 
Portland is just quirky. It's a lot like Austin — you can compare the two cities quite a bit. I love the diversity, I love that there are different areas of the town that feel different. And the food is absolutely fantastic. If you are a foodie, then Portland is definitely the place for you because you have world-class restaurants and you also have these spectacular food carts where, for like eight bucks you get this great meal that is prepared by a chef who just didn't want to work in a restaurant. 
Have you ever enjoyed any free Glicken or perks as a result of your SEO-writing lifestyle? 
The thing that comes into play most for me is the travel. Quite a few conferences will pay something or everything. My favorite one, and this only happened once in my career but it really rocked, was when I had a speaking gig in Amsterdam and the client said, "Come over, we'll pay for everything." So the hotel was paid for, the flight was paid for, and then they said, "We want you to be able to enjoy the country, so it's okay to spend a few days on us. We're fine with that." And I got a speaking fee on top of that! It was amazing, it was absolutely amazing. 
 I've noticed you're a prolific Tweeter. In fact, you're closing in on 9,000 tweets. What's the biggest advantage you find to using Twitter?
It's a way for me to check in and keep in touch with folks in my industry. Twitter for me has been an incredible medium because I've gotten a lot of business from it. I have more partnerships because of it. I've met people all over the world whom I wouldn't have necessarily met before. It's funny, because years ago at a birthday party, a friend of mine was trying to convince me to get on Twitter and I said, "Dude, nobody cares what I'm doing. Nobody cares when I'm in a store at a certain time." He said, "No no, it's a really great way to get good feedback." And he was right. So one thing I do now is when I'm on stage and — say I'm up there with a panel and another panelist is talking — it's amazing how many people will tweet you and say, "Hey, I know you're on stage — can you answer a question about this?" It gives you that instant feedback so you're connecting with the audience while everything else is going on around you. It's really fun. 
Do you find that you speak — or rather think — in tweets? 
It's funny, but I do. Of all the different types of platforms that are out there now, Twitter at 140 characters works best for me. I can come up with a lot in 140 characters! 
Would you say that's your social media outlet of choice, out of all the different platforms? 
It is. Twitter and LinkedIn are the two big ones for me. 
Could you give me some tips for someone who wants to start out brand-new as a writer in the SEO world? 
I would say one of the things to do is to just go for it. So many times people want to be a freelancer, but they come up with 1 million reasons as to why they can't do it yet. They don't have enough money, they can't quit their jobs, whatever. We can easily talk ourselves out of doing anything. So if that's your passion, then make it happen because the universe will open up and support you. 
And for SEO, if you want to get into that world then I would start reading things like Search Engine Land. Know the people that are within the industry and feel free to ask them questions. SEO is a really friendly industry. So don't be afraid of someone because you think, "Oh there's a huge branded individual who will never answer my question." Know that they will, because we've all been there. And we've all needed help at one point. We appreciate the folks who approach us and say, "I'd like to learn more. Can you point me in the direction of some resources?" 
Definitely look into the certification program as well because if you want to get into the writing part of it then it's a really good way to understand those best-practices in the industry. That way you'll get up-to-speed faster, you'll be able to write for more clients sooner and be more confident in your writing, and you'll ultimately be able to make more money because you have that education in your back pocket.
Thank you, Heather, that's perfect advice. I think a lot of people will benefit from that. So with that, thank you so much for taking the time to talk today.