Web Copywriting: Earn a Great Living with Online Content Writing Jobs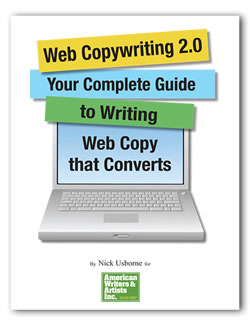 It doesn't matter what type of writing you do, or how much experience you have. If you want to be successful, you MUST know how to write copy for the Web. 
Every business today, large or small, has an online presence. They need someone trained to write copy online that brings in leads and sales. 
And the best way to learn those online writing skills is with one of the first online content writers in the industry: Nick Usborne. As a veteran copywriter and one of the first copywriters to write for the web, he's shared his secrets in Web Copywriting 2.0: Your Complete Guide to Writing Web Copy that Converts. 
In this program, you'll learn from one of the most comprehensive web copywriting courses around. It's like a complete college education in online copywriting. Here's a small taste of what you'll get: 
Nick's established three-step process for crafting Web copy that works. You'll be poised to increase profits for any type of online business, and clients will be lining up to get on your schedule…
A key insight to writing stellar Web copy. This method worked at the origin of the Web in 1979, and it's still true today, especially if you're in the market for top website content writer jobs
Why you don't want to be seen as simply a "copywriter" by your prospective clients, and what you should do instead. This small change practically guarantees that name your own fees… that clients will happily pay
What you should know about your online prospects that will have you beating the pants off your competition
Why you don't have to be a "technical" expert to succeed as a Web writer and still make a handsome living
Nick's personal "Text Box" method for simplifying the Web writing process. This trick alone will help you make a fortune as an online copywriter 
Along with this masterful program and tips on web copywriting, you'll also receive a collection of 16 training videos. Nick's videos are designed help you learn at your own pace, and give you the skills you need to tackle any website content writer jobs in no time! 
Even if you don't write for clients, you'll need these Web writing skills to make sure your own blog or author's website is seen by search engines and gets the most attention it can. These skills are invaluable for self-promotion to any writer. Get started today as an online copywriter today and land top content writing jobs!


Barefoot Writer is a Division of AWAI (American Writers & Artists, Inc.)