Subscribe Now for Just $12!
Experience what it's like to make a very good living as a writer, while enjoying the kind of lifestyle most people only dream about …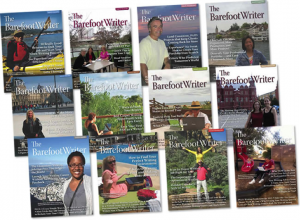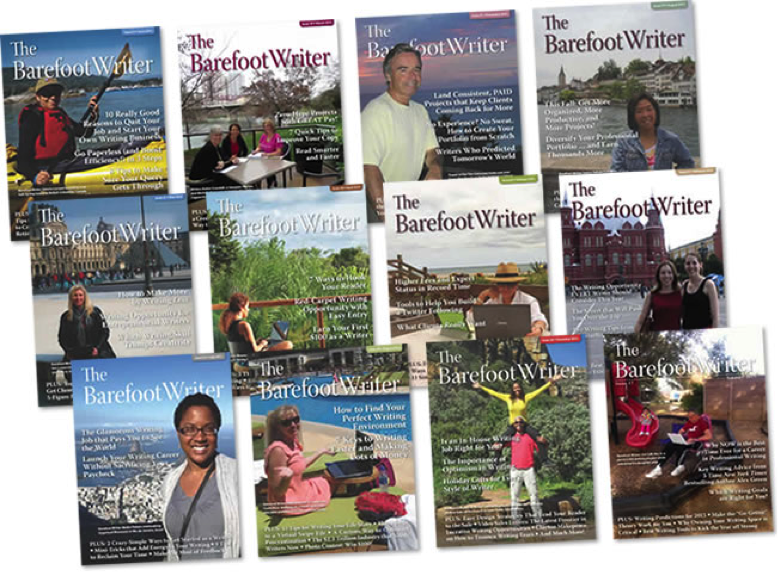 Every month, Barefoot Writer brings you over 40 pages of motivation, inspiration, and practical advice for turning your writing dreams into reality.
Subscribe today and quickly learn things like:
The best ways to make GOOD money as a writer …
Which writing opportunities are the easiest to break into and which ones pay the most …
What kinds of skills you need to land the highest-paid writing gigs (no school required!) …
How to start a career as a well-paid writer …
Where to find clients who will value your skills …
How to rock your writing assignments so companies call on you again and again …
And so much more!
Plus, when you subscribe today for only $12, you'll also instantly receive our special report, "122 Amazing Perks and Freebies for Writers (and How to Get Them!)."
One of the best perks about becoming a Barefoot Writer is getting free stuff! In this fun report, you'll learn exactly how to use your newfound skills to take advantage of these extra benefits.

Subscribe Now for Just $12 and Start Enjoying
the Perks of Being a Barefoot Writer!
____________________________________________________________________________________________________________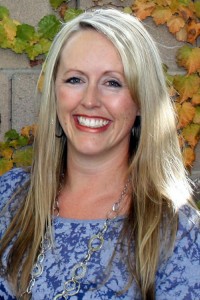 From the Desk of Mindy McHorse, Executive Editor of Barefoot Writer
Dear Fellow Writer,
Want to be a happy and successful writer?
There are literally dozens of ways to make a living as a writer. You just need to choose the path that's right for you. And what great choices you have …
Some writing careers pay more than others …
Some require a lot less time to get established …
Other choices have a shorter learning curve …
Others still get you free "perks" like all-expense-paid trips to resorts …
Some writing careers let you write about your favorite hobbies …
And there are some writing careers that are simply a lot of fun — plus you earn a nice income!
From writing online content and social media updates, to video scripts and travel essays, the options for well-paid writing assignments have never been greater.
But how do you start? Which path is best? And what does life really look like for writers already living your dream?
Get the answers (and inspiration) you need
from Barefoot Writer today
Each month, the pages of Barefoot Writer Magazine are filled with details about writing opportunities that pay very well and have excellent perks …
You might read about Beverly Hart's travel writing adventure through Europe's best museums and chocolate factories … and how she was able to get into many of her feature destinations for free simply because she's a writer …
You see, every part of Barefoot Writer is dedicated to writers who want to make a great living while also actually enjoying themselves and their writer's lives. 
Each issue is packed with interviews and stories from writers who are making the most of the flexibility, independence, and freedom that comes with being a writer.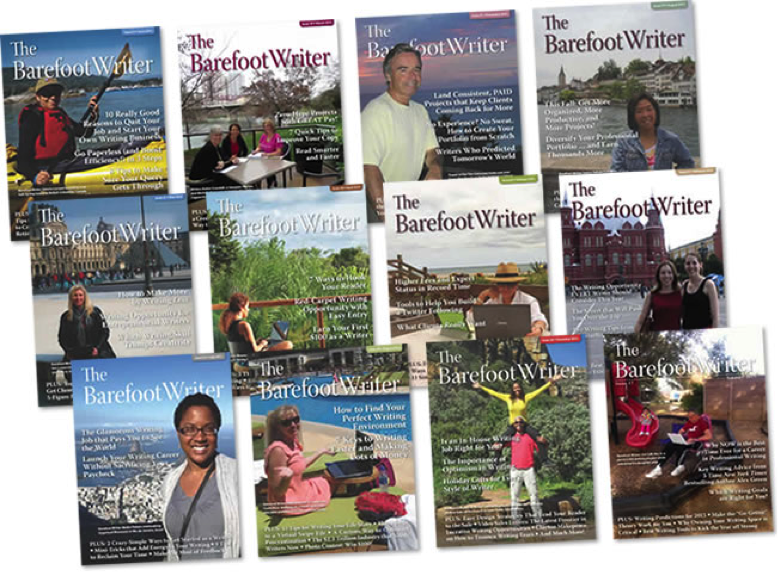 When you subscribe, you'll find out how these writers discovered how to travel at will … put family time first … and enjoy all of life's little luxuries (things you'll be doing too, very soon!).
But for all their playing, the writers you'll meet here are serious about their writing businesses, too.
Many of them are the breadwinners in their families. So they work just as hard as they play.
It's not unusual for these Barefoot Writers to bring in $50,000 … $75,000 … and even $100,000 a year or more from their writing.
So when it's time to talk business, they don't pull any punches.
That's why Barefoot Writer also showcases time-saving resources for writers … gives advice for winning new clients… and talks honestly about the income potential of different writing opportunities each month.
Every value-packed issue contains eye-opening content, from interviews with multimillion-dollar publishers to lists of productivity-enhancing tools writers can use for free.
You'll soak up useful, real-world knowledge while getting firsthand glimpses into the lives of passionate, committed writers from around the world.
And you can use that knowledge to change your life for the better …
** For a Limited Time **
Subscribe to Barefoot Writer — and bring your future as a well-paid writer to life for just $12!
Every month, Barefoot Writer brings you over 40 pages of motivation, inspiration, and insight into living your best possible life as a writer.
You'll see how to get paid well, reach your writing goals, and have more time for your personal life, too.
And for a limited time, you can get 12 months of Barefoot Writer for just $12!
That's right — for $1 a month for the next year, you could learn about valuable new writing opportunities, key productivity-boosting resources, special Barefoot Writer expert profiles, and a whole lot more — all delivered to your inbox on the first Friday of each month.
Plus, this incredible offer is backed by a 365-day, no-questions-asked, money-back guarantee. If you don't love Barefoot Writer, your $12 subscription will be refunded in full.
Give it a try. Subscribe to Barefoot Writer today, and see for yourself just how valuable a behind-the-scenes guide to the writer's life can be.

To your success,
Mindy McHorse
Executive Editor, Barefoot Writer
P.S. One other thing … Barefoot Writer also hosts monthly writing competitions with cash prizes. All subscribers — aspiring and established writers alike — are eligible. You can check out the contest details inside each issue … so get your subscription now.