Grant Writing: One of the Most Rewarding Careers for Writers
Writing grants to persuade people to use their money to solve a problem is one of the most satisfying careers for writers who want to make a difference in the world.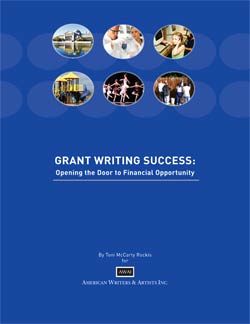 There is more than $500 billion available in grant money each year. Your job as a grant writer is to find those funds and convince the funder to give them to your client. That means writing clear, concise, and persuasive proposals.
Once you know the secrets to success, it's easy. That's what makes grant writing one of the best freelance writing jobs for beginners and experienced writers alike.
With Grant Writing Success: Opening the Door to Financial Opportunity, you'll learn everything you need to get started and be successful, including insider tips, key components, and checklists. Here's just some of what you'll get:
How to find the right organization to fund your client's request, and improve your chances for success ten-fold, right from the start…
The 12 key components of a grant proposal and how they're weighted when a proposal is scored
The "Number One Rule" of grant writing
Why your proposal's introduction is important to the success of your grant request, and how to use very basic "rules of copywriting" to give you an edge…
How to write the ultimate "Need" statement with the four key elements that should be included in every proposal you write…
How to get (and keep) clients… and strategies for never running out of clients or funding proposal opportunities…
The best websites for finding and securing state and federal government agency grants…
And much, much more!
Grant Writing Success has everything you need, from samples of winning proposals, to checklists that you'll follow. You'll be able to get started in this business right away and make money freelance writing.
Grant writing is a perfect full-time business, or can make a great part-time gig to complement other careers for writers. Let Barefoot Writer help you get started in your new grant writing business today!


Barefoot Writer is a Division of AWAI (American Writers & Artists, Inc.)