Discover 9 Ways You Can Make
a VERY Good Living as a Writer!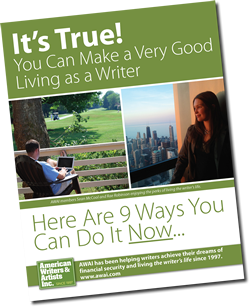 We'll instantly deliver this
FREE Guide to Barefoot
Writer Living
PLUS receive our FREE daily Newsletter The Writer's Life
packed with expert advice on how to make a great living as a writer.
We respect your privacy. View our privacy policy
Making a Living as a Writer Has Never Been Easier
Get paid to write and build the freedom-filled life you've always wanted
You're in the right place if you:
Want to get paid well for your writing
Want to use your well-paid writing skills to build the life of your dreams — You know, the kind where you don't have to report in to an office. Where you don't have a boss. Where you can work

when you want

, from

wherever you please

,

on projects you enjoy

.
Sound too good to be true?
It's not.
We have proof. Hundreds of writers, just like you. They've escaped the 9-to-5 grind and now write for money — good money. A lot of them even make six-figures. (You can learn more about them here.)
They do their writing work from the comfort of home … or at a favorite cafe … or while vacationing on a sun-filled, breezy island …
We're here to help you discover how to create your own satisfying, well-paid writing career. We have information from authors and experts you can't find anywhere else.
The Barefoot Writer is committed to helping you write smarter, get paid faster, and build the kind of lifestyle you've only dreamed about till now.
[button color="orange" link="h/the-magazine/about-barefoot-writer" ]Learn more about us[/button] [button color="orange" link="/subscribe/subscribe-now-to-barefoot-writer" ]Learn more about the magazine[/button]