Landing B2B Jobs: One of the Most Lucrative Markets for Writers, With High Fees and Almost No Competition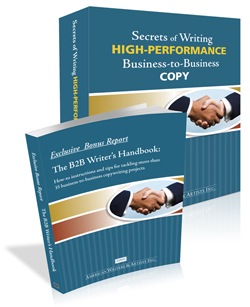 Business-to-business is when companies sell to other companies, instead of to the end consumer.
Companies need writers (like you!) to help translate their B2B marketing strategy into a wide range of written materials including web pages, emails, sell sheets, white paper, and case studies.
You may not have heard of B2B copywriting before … it flies under the radar because it's not intense and glamorous like B2C. If you're not familiar with B2B writing yet, you're going to want to learn more. It's a $6.5 trillion industry, and a great market for new and experienced freelance copywriters.
This huge market is clamoring for writers. There's very little competition from other writers, but there's lots of work and the pay is good. 
Steve Slaunwhite, veteran B2B copywriter and acclaimed author, has created Secrets of Writing High Performance B2B Copy to teach you the ins and outs of B2B writing. 
This program will show you why B2B jobs are different than B2C, how that works to your advantage, and how to get started on these lucrative projects right away:
B2B companies are desperate for copywriters who understand their industry, but there's a shortage of writers with the right skills
Projects tend to be short, and there are a large variety, so you'll have an opportunity to write many different things
B2B prospects have different motivations than in B2C, so the copy has a different focus (which you'll learn how to write)
The B2B sales process is longer, and they need a lot of copy, such as B2B email marketing and case studies, to nurture leads
Once you complete the program, you can handle B2B copywriting assignments with confidence and success, without any technical background or knowledge
You can make $100,000 a year or more strictly from B2B work, or with your other copywriting projects 
B2B writing jobs are plentiful and a great way to earn a living as a copywriter.
Let Barefoot Writer help get you started on this new career today! 


Barefoot Writer is a Division of AWAI (American Writers & Artists, Inc.)