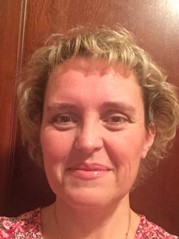 Congratulations to Susan Wilkinson for Winning the October 2017 Barefoot Writing Challenge! (Your $100 prize is on its way!)
The Challenge was to write an essay that answered this prompt:
Tell us about a favorite Halloween costume you've worn.
Susan shared the heartwarming tale of how her siblings came together one Halloween night to create a lasting (and award-winning) memory. Enjoy her winning submission:
---
How I aged forty years in less than 2 hours
My father was a Montana Logger and I was the youngest of six kids.  To say there were times when money was an issue is an understatement.  We made church mice look rich.
Most years when Halloween came our mother would take us to the local Bonanza 88 to pick out one of those cheap costumes with the molded plastic face mask.  I grew up a stone's throw from the Canadian border so mine had to be purchased big enough to fit OVER my snowsuit!  Yes, Halloween costumes had to be worn that way — it's a Montana thing!
The only year all six kids were in school at the same time, money was very tight.  When October rolled around my brother and I asked if we could go pick out costumes.  Mom told us that we would have to wait until closer to Halloween because Dad was due to get paid and it had not come yet.  The month wore on and my brother and I only got more insistent but Mom would reassure us that it would come in and we would go then. 
Dad's check didn't come. 
It was after school with our Halloween Carnival that night.  I was in tears.  There would be no plastic costume this year. 
I was inconsolable and my brother had gone off somewhere to pout.  My sisters were tender-hearted and very creative.  They decided this year my brother and I would celebrate Halloween as… our parents.
They quickly put our two older brothers to work helping with the youngest brother's "logger digs."  My oldest brother removed the chain from one of Dad's chainsaws while our middle brother found some ratty jeans and a pair of Dad's bright red suspenders.  They dressed him in one of Dad's old flannel shirts stuffed with pages from the Nickel Shoppers to add 'weight.'  His look was accessorized with a small pair of logging boots and one of Dad's hard hats.  He was thrilled when he found out he was to carry a 'REAL' chainsaw.  My middle sister gave him a mascara beard and mustache while the other helped me get ready.
I was the frumpy mom.  One of them found an ugly, double-knit, polyester bathrobe and fuzzy pink slippers.  I was excited again.  I think my make-up may have been the scariest thing at the carnival that night!  I had bright blue eye-shadow with black eyeliner and 'grandma' red lipstick.  They put my hair up in pink sponge rollers.  We all joked that they matched my slippers perfectly.  I must say our mom NEVER looked like THAT!
My brother won best costume and mine got the runner-up that evening but the thing that stands out in my mind is how the four teenagers put aside their time to make our night special!  They replaced tears and sorrow with a beautiful family memory!