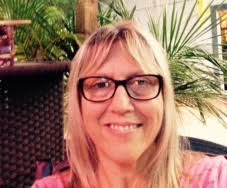 Congratulations to Diane Wallace for Winning the April 2017 Barefoot Writing Challenge! (Your $100 prize is on its way!)
The Challenge was to write an essay that answered this question:
How has your family background affected the way you see the world?
Diane shared the charming life journey of the relative who most influenced her world view. Enjoy her story…
---
Experience Big…
She was bedridden for 20 years, after receiving a diagnosis of rheumatoid arthritis. Because of her infirmary, she had to sell her ceramic business. The retirement dreams of travel were shattered. Instead, moving to warmer weather was the suggestion, so in the early '60s, she ended up in a mobile home park in Venice, Florida.
By the late '70s, options for hip and knee replacement surgeries enabled her to shuffle, setting her free from what most would consider a bed prison.
She never seemed bored when I came to visit. She was always busy at her bedside post… either reading, copying sheet music, researching our ancestors, or scrapbooking their genealogy.
In the living room sat the organ, where she would slap her bent, swollen fingers against the ivory keys… completely self-taught.
People from the park would show up at her doorstep to receive instructions on upcoming seasonal, vaudeville-type shows she had choreographed. Sitting in her chair, she would slide her feet back and forth to instruct on the steps to her latest soft shoe or bossa nova dance piece.
Preparation was crucial, and she had everything organized down to the minutest detail.
Shows were complete with full-course dinners… audience headcounts averaged around 200. They were always a great success, well planned and executed… often receiving a complimentary write-up in the local paper.
Her magnetic, gentle way brought the volunteers.
She was all about facts and getting work done. She had an unparalleled work ethic that I would like to replicate. When there was an issue, she would deal with it swiftly and fairly. I never saw her belittle anyone or make anyone feel uncomfortable.
She always radiated a positive attitude.
In the 1940s she was a woman working in a man's world. In the '50s, she started her own business. By the '60s, the rheumatoid arthritis had punched its devastating blow that most people would have found hard to overcome. In the '70s and '80s, she did what she could to stay agile, busy, and happy.
In the 33 years that I knew my grandmother, I never once heard her complain.
Through my grandma's eyes, I saw a beautiful, gentler world… a world where all things are possible; a world where goals could be set and achieved; a world where thwarted plans could bring about a new set of ideas; a world where working together with others removes a certain self-dependency.
Watching grandma orchestrate her shows kept me grounded in the reality of a world where obstacles and confrontations made way for a new learning curve… A world where learning and growing are inseparable. This world, where having a problem to solve is not necessarily a bad thing, but more often than not, a chance at character building.
This tiny world that my grandmother lived in was, in reality, a much bigger world than most of us will ever have the chance to experience.