Launch Your Wildly Satisfying
PAID Copywriting Career
in 60 Days or Less!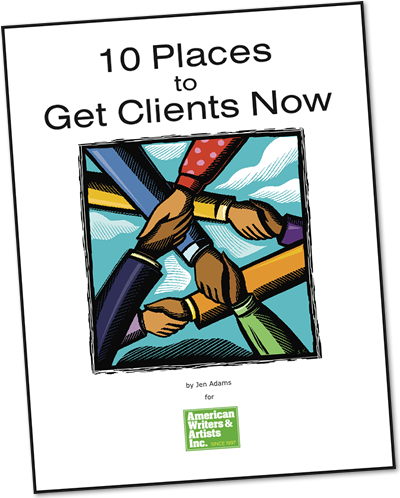 We'll instantly deliver this FREE Guide to Getting Clients Now!
PLUS receive our FREE Newsletter The Writer's Life packed with expert advice on how to make a great living as a writer.
We respect your privacy. View our privacy policy
Making a Living as a Writer Has Never Been Easier
Your Future as a Well-Paid Writer Starts TODAY!
You can finally make a living as a writer. Specifically as a copywriter.
Copywriters create persuasive materials like emails, websites, and reports that get people to take action, whether it's to purchase, donate, click, or share.
And they get paid very well to do it.
I'm proof – I've made an extremely comfortable living as a writer for half a decade.
And this special report — 10 Places to Get Clients Now — gives you a leg up so you can land paid writing work as fast as possible.
In it, you'll discover exactly how simple it can be to find great clients – who PAY, of course – AND who offer you projects you'll enjoy.
Here's what I want you to do:
Download your special report. It's free, and all it takes is your first name and your current email address.
Go through it now. Dedicate a couple of minutes to go through the material as soon as you receive it. It's that important. Make a note of the methods that appeal to you most.
Start imagining what it could mean to quit your day job and write for a living … a very comfortable living.
Once you've read through the report, feel free to come back to this website and surf around. There's a lot of great information and our goal is to answer any questions you have about life as a paid writer.
You'll hear from me in a few days … and we'll talk about the next step to launching the career of your dreams.
To your writing success,

Mindy McHorse
Copywriter and Editor of Barefoot Writer Magazine
P.S. When you sign up for the report, I'll send you my contact details so you can reach out to me if you have any questions.
Helping others achieve their career writing goals is my passion – and I'd love to help you!